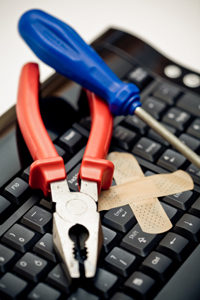 You did your homework. Or maybe you hired professionals to examine your needs and make recommendations. You got competitive bids. You chose a vendor and bought a communications system. The system was installed and training ended. Then the trouble started. People either forgot or never learned how to use those 'great features'. You needed some changes, or maybe some more equipment. Bills started rolling in. The warranty expired. . You spent so much on the system that you couldn't afford to maintain it. Or maybe you rolled the dice and gambled nothing would happen. As time went on, you got less and less out of the system, but you put more and more money into it. Five or six years went by, and you wondered when you would reap returns from your 'communications investment'. But you never did. Where did all that money go? What happened to the productivity gains from those 'great features'? Can you afford to make that mistake again? There's got to be a better way… Sound familiar?

MDCOM understands that you are best served when you can focus your time, resources and attention on your business, not technical difficulties.

We have your solution: MDCOMplete Care.

What is it? MDCOMPLETE CARE is a service package that includes all of the major costs associated with operating your telecommunications solution.
New telephones
Hardware and software
Complete Installation
Unlimited training
Complete parts and labor service coverage for the duration of the plan
We cover it all. In fact, it's easier to tell you what we DON'T cover: additional phones and cabling. That's it. Everything else is covered. Call us today and find out how an MDCOMplete Care Plan can benefit you. (Now get back to your business and leave your communications to the experts!)